SDG6: Clean Water & Sanitation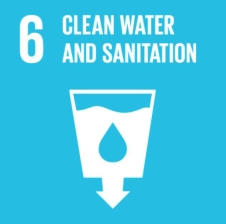 " The United Nations (UN) has determined that access to clean water and sanitation facilities is a basic human right. However few countries have included a human right to water in enforceable legislation. Over 2 billion people in the world lack access to water that is free of health risks. By 2017, eighty countries provided access to clean water for more than 99% of their population. From 2000 to 2017, the global population that lacked access to clean water decreased from nearly 20% to roughly 10%.
Ending open defecation will require the provision of toilets and sanitation for 2.6 billion people as well as behavior change of the population. To meet SDG targets for sanitation by 2030, nearly one-third of countries will need to accelerate progress to end open defecation, including Brazil, China, Ethiopia, India, Indonesia, Nigeria, and Pakistan. This will require cooperation between governments, civil society and the private sector.
Safe drinking water and hygienic toilets protect people from disease and enable societies to be more productive economically. Attending school and work without disruption supports education and employment. Therefore, toilets at school and the workplace are included in the second target ("achieve access to adequate and equitable sanitation and hygiene for all"). Equitable sanitation and hygiene solutions address the needs of women and girls and those in vulnerable situations, such as the elderly or people with disabilities.
In June 2019, United Nations Children's Fund (UNICEF) and World Health Organization released their 138-page report "Progress on household drinking water, sanitation, and hygiene 2000-2017: special focus on inequalities." The report said that in 2017, 5.3 billion people-representing 71% of the population of the world-used a "safely managed drinking-water service-one that is "located on premises, available when needed, and free from contamination". By 2017, 6.8 billion people-representing 90% of the world's population-used "at least a basic service", which included "an improved drinking-water source within a round trip of 30 minutes to collect water". However, in 2017, there were still 785 million people who lacked "even a basic drinking-water service, including 144 million people who [were] dependent on surface water." The report said that approximately 2 billion people used a "drinking water source contaminated with feces". The report warned that diseases, including "diarrhoea, cholera, dysentery, typhoid, and polio" are transmitted by contaminated water, which cause about 485, 000 diarrhoeal deaths each year. It cautioned that 50% of the global population will be "living in water-stressed areas" by 2025. As of 2017, 22% of health care facilities in the least developed countries had no water service, with similar numbers lacking sanitation and waste management services.
A review of SDG progress by the UN in 2020 found that "increasing donor commitments to the water sector will remain crucial to make progress towards Goal 6". This is why the UN has put in place a unifying initiative that improves support to countries known as SDG 6 Global Acceleration Framework.
GUST Welcomes H.E. Minister of Oil, Electricity & Water Dr. Khalid Al-Fadhel
GUST was honored to welcome Kuwait's Minister of Oil and Minister of Electricity & Water, H.E. Dr. Khalid Al-Fadhel on campus last week to talk to Dr. Mohammed Alnughaimish's Leadership (MGMT 361) class. The Minister spoke to students, staff and faculty about his experience and how leadership and character aided in his appointments as Former Deputy Minister of Commerce and his current position.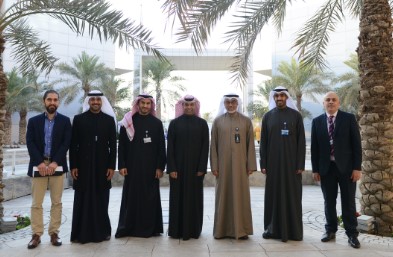 &nbsp &nbsp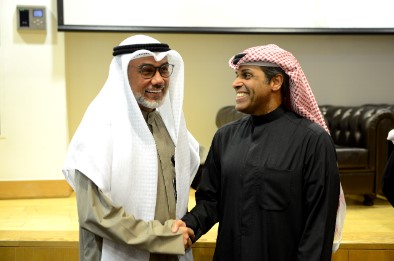 In attendance was GUST President, Professor Walid Bouhamra, who was also the H.E. Minister's Professor at Kuwait University while he was completing his degree in Chemical Engineering. Also, in attendance was BOT Advisor, Dr. Jasem Abdulsalam, Vice President for Professional Development and Community Services, Dr. Ahmad Al-Darbas, Director of the Graduate Studies and Research Office, Professor Bassam Alameddine, as well as faculty members and students. The talk was moderated by Dr. Mohammed Alnughaimish', GUST Adjust Professor.
H.E. the Minister left the audience inspired with his stories and his character, and even gave a majority of the session open for their questions. GUST is continuously seeking high caliber speakers to inspire students to give their all and excel both academically and personally.
GUST for SDGs specific researches on sustainability
Education for SDGs specific courses on sustainability
Have dedicated courses (full degrees, or electives) that address sustainability and the SDGs.
Courses Related To SDGs
CAS = Collage of Arts and Sciences, CBA = Collage of Business Administration
| SDG | Collage | Course |
| --- | --- | --- |
| SDG 6 - Clean Water & Sanitation | CAS | BIOL 103 Environmental Biology 3.00 Prerequisite: ENGL 098/100/110/112 & non CS Examines the organization of natural ecosystem as it relates to the human community. Basic ecological principles are applied to current environmental issues. Among the topics to be examined are past and present uses and abuses of natural resources; environmental ethics and public policy; global environmental problems; human population growth; pollution; waste disposal; habitat loss; species extinction; and strategies for attaining a sustainable earth |