SDG7: Affordable & Clean Energy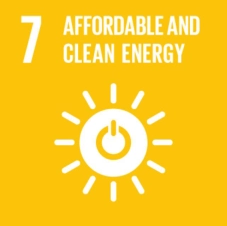 " Use of energy marks the beginning of human civilization. It began with the use of burning biomass (discovery of fire) to produce heat for local heating and cooking purposes. The Industrial Revolution in the late 1700s caused a paradigm shift to the use of coal, oil and natural gas as the primary sources of energy. As the population increased over the years, the demand for these non-renewable resources also increased many fold, thus pushing the environment to the brink of destruction.
As the world population continues to grow, so will the gap between those who can afford it and those who cannot. A representative at the UN High-level Political Forum on Sustainable Development stated that "despite improved access to electricity globally, nearly one billion people continue to live without electricity and three billion people lack access to clean cooking solutions and are exposed to dangerous levels of indoor air pollution". At the same time, an economy reliant on fossil fuels is causing changes to our climate. Energy is central to nearly every major challenge and opportunity the world faces today, including for example adaptation to climate change, food security, health, education, sustainable cities, jobs and transport. Hence, it is imperative that we move to more environment-friendly sources of energy, that are accessible by the most remote areas of the world.
Achieving SDG 7 is expected to galvanize actions to meet the Paris Agreement on climate change.
For a long time, people have been using coal and oil as primary energy and to generate electricity. Seeing the harm they have been doing to the environment countries all over the world are looking into other alternatives for energy production (renewable energy sources) such as:
Solar Energy: This is energy derived from solar radiation. This is a very clean form of energy and can be used extensively due to its abundance. Technologies like photovoltaics, concentrated solar power and solar heating and cooling, are fast catching on to produce and supply energy even to places with no access to conventional fuels.
Wind Power: A clean, free, albeit intermittently available, form of energy, the kinetic energy possessed by moving winds can be captured to produce energy. Wind farms, consisting of a number of individual wind turbines, are installed at frequently windy sites.
Geothermal Energy: Heat that comes from the sub-surface of the Earth can be tapped to produce energy. Geothermal power stations and heat pumps are used to capture the heat released from hot springs. This energy does not usually release any harmful emissions, and due to Earth's high heat capacity, can be easily replenished.
Hydropower: This is the energy derived by tapping the kinetic energy of flowing water. By setting up turbines in rivers we can produce energy in a clean and emission-free way. Hydropower produces the most energy annually of the modern renewables
Tidal Power: Energy from tidal forces can be tapped to generate electricity. Although not so commonly used, this clean and readily available source of energy has a great capacity as an alternative to conventional sources of energy.
Biomass: Biomass can be burned and be used for energy production through direct firing, co-firing, pyrolysis, gasification and anaerobic decomposition.
Nuclear Power: Using nuclear fission tremendous amounts of heat is generated in the reactor. Water is then used to cool the reactor which generates steam, the steam generated turns a steam turbine which generates electricity.
And while a shift to renewables has begun, it still contributes around 18% of the world's total energy consumption, with only about 10% coming from modern renewables.
Ensure access to affordable, reliable, renewable and modern energy services and increase energy efficiency to minimize harmful emissions. This goal includes international cooperation, expanded research and improved infrastructure. GUST is committed to achieving strategies, methods to improve the efficiency and use of energy in the community and in the world.
GUST Welcomes H.E. Minister of Oil, Electricity & Water Dr. Khalid Al-Fadhel
GUST was honored to welcome Kuwait's Minister of Oil and Minister of Electricity & Water, H.E. Dr. Khalid Al-Fadhel on campus last week to talk to Dr. Mohammed Alnughaimish's Leadership (MGMT 361) class. The Minister spoke to students, staff and faculty about his experience and how leadership and character aided in his appointments as Former Deputy Minister of Commerce and his current position.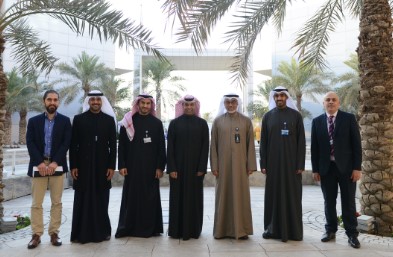 &nbsp &nbsp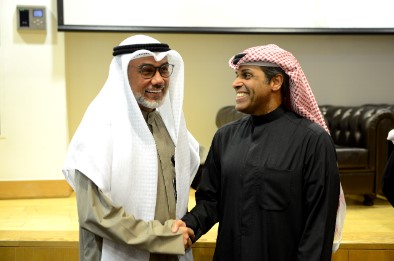 In attendance was GUST President, Professor Walid Bouhamra, who was also the H.E. Minister's Professor at Kuwait University while he was completing his degree in Chemical Engineering. Also, in attendance was BOT Advisor, Dr. Jasem Abdulsalam, Vice President for Professional Development and Community Services, Dr. Ahmad Al-Darbas, Director of the Graduate Studies and Research Office, Professor Bassam Alameddine, as well as faculty members and students. The talk was moderated by Dr. Mohammed Alnughaimish', GUST Adjust Professor.
H.E. the Minister left the audience inspired with his stories and his character, and even gave a majority of the session open for their questions. GUST is continuously seeking high caliber speakers to inspire students to give their all and excel both academically and personally.
GUST Meets with PUC Over New Majors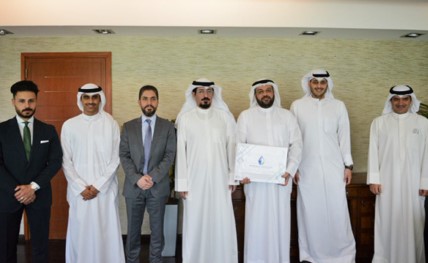 A delegation from Gulf University for Science and Technology (GUST) visited The General Secretariat of Private Universities Council (PUC) where they met the Acting Secretary-General of the Council, Eng. Omar Ali Al-Kandari. The Delegation included the Chairman of the Board of Trustees, Mr. Nawaf Arhamah Arhamah, the Vice President for Academic Affairs, Professor Bassam Alameddine, the President of the Students' Association, Mr. Talal Al-Sager, and the Chairman of the Committee for Newcomers in the Association, Mr. Basil Al-Hamoud. At the top of the meeting's agenda was the introduction of 10 new bachelor's degree majors and 6 new master's degree programs, in addition to offering supportive majors, and a double major system. GUST pointed out that the new majors to be offered would include Economics, Entrepreneurship, and Supply Chain Management at the College of Business Administration. With the addition of Cybersecurity, Data Science programs, International Relations which includes concentrations in political science and comparative cultural studies. The university also announced a new program in Education which includes the Mathematics, English and Science program in the College of Science and Arts.
The presentation also included the announcement of six new research centers located at the university most notably the creation of the Center for Sustainable Energy and Economic Growth (SEED). The university's current projects that help students complete their postgraduate studies were also presented.
GUST for SDGs specific researches on sustainability
Education for SDGs specific courses on sustainability
Have dedicated courses (full degrees, or electives) that address sustainability and the SDGs.
Courses Related To SDGs
CAS = Collage of Arts and Sciences, CBA = Collage of Business Administration
| SDG | Collage | Course |
| --- | --- | --- |
| SDG 7 - Affordable & Clean Energy | CAS | BIOL 103 Environmental Biology 3.00 Prerequisite: ENGL 098/100/110/112 & non CS Examines the organization of natural ecosystem as it relates to the human community. Basic ecological principles are applied to current environmental issues. Among the topics to be examined are past and present uses and abuses of natural resources; environmental ethics and public policy; global environmental problems; human population growth; pollution; waste disposal; habitat loss; species extinction; and strategies for attaining a sustainable earth |
| SDG 7 - Affordable & Clean Energy | CAS | CHEM 103 Environmental Chemistry 3.00 Prerequisite: ENGL 098/100/110/112 & non CS Introduces chemistry conceptually; focusing on its eminent role in our everyday life, majorly in the environment. Highlights the chemical principles with little emphasis on calculations for non-science major students. Provides essential topics; Molecular Reasons. The chemist's toolbox, Atoms and Elements, Molecules, Compounds, and Chemical Reactions, Energy for Today and Tomorrow, The Air Around Us, The Liquids & Solids Around Us; Especially Water, Acids and Bases. |