SDG3: Good Health & Well-being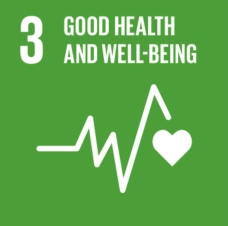 Ensuring that every child survives and thrives depends on a combination of high-impact interventions - including quality antenatal, delivery and postnatal care for mothers and their newborns, prevention of mother-to-child transmission of HIV, immunisation to protect children from infectious diseases and access to adequate and nutritious food.
The UNDP reports that "every 2 seconds, someone aged 30 to 70 years dies prematurely from noncommunicable diseases - cardiovascular disease, chronic respiratory disease, diabetes or cancer."
According to statistics, globally, "2.4 million children died in the first month of life in 2019 - approximately 6,700 neonatal deaths every day - with about a third of all neonatal deaths occurring within the first day after birth, and close to three-quarters occurring within the first week of life". Lack of access to quality healthcare is one of the major factors behind the figures and regional data revealing that neonatal mortality was highest in sub-Saharan Africa and South Asia which post 27 and 25 deaths per 1,000 live births, respectively, in 2019.
Reports by UNICEF, WHO, the World Bank and UNDESA indicate that sixty million children under five will die between 2017 and 2030 despite the fact that the number of children dying in 2016 was low (5.6m) compared to 2000 (9.9m). SDG 3 also aims to reduce maternal mortality to less than 70 deaths per 100,000 live births. Though the maternal mortality ratio declined by 37 per cent between 2000 and 2015, there were approximately 303,000 maternal deaths worldwide in 2015, most from preventable causes. Similarly, progress has been made on increasing access to clean water and sanitation and on reducing malaria, tuberculosis, polio and the spread of HIV/AIDS. Advances in technologies such as the internet have enabled the digitization of health records and easier access to online medical resources for doctors and health workers, leading to improvements in patient treatment and outcomes.
GUST Collaborations and Events
Students Clubs at GUST

GUSteps Competition Kicks-offs GUST's Athletics Department launched the GUSteps challenge, a walking competition aimed at encouraging everyone to exercise during the holy month of Ramadan. The competition also aims to promote an overall healthy lifestyle in the midst of the COVID-19 pandemic and government curfew restrictions.
The competition is tracked through the use of the "Movespring" app, where users interested in participating download the application and enter their credentials including GUST as their affiliate institution. From there, users link their own personal fitness trackers to the app so that each individuals steps date is collected and aggregated to show the daily and weekly results of all participants.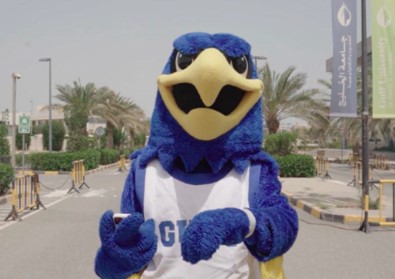 To further encourage the community in competing the Athletics Department has set a target goal for participants to hit weekly, starting at 60 thousand steps for the first week which a gradual increase of 30 thousand steps each week, ending at 150 thousand steps on the final week of Ramadan. Each week the participants who have reached the weekly qualify to enter a raffle to win an iPhone. With a major prize allocated to this who complete 420 thousand steps by entering a raffle for an iPad.
Head of Athletics, Ms. Bibi Abdulkareem said "I am proud to be a part of this project and proud to see the amount of GUST students, faculty, staff, and even alumni, sign up and participate. This competition is critical is promoting a healthy lifestyle but also in encouraging others to maintain their physical and mental wellbeing. With the use of technology, we have been able to do this all from a distance without having any physical sign ups. I am grateful for everyone who has had a helping hand in making this competition a success."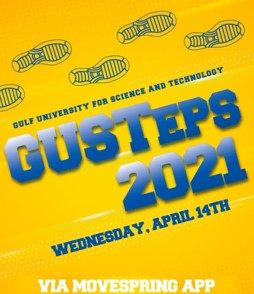 The challenge is a testament to the Athletics Department goal to further engage the community through events such as GUSteps and the "Live Workout Series" on Zoom, with Mr. Ahmad Al-Shammari, which also is ongoing during this holy month. To participate and join the GUSteps challenge, download the Movespring application on your smartphone, input your credentials and required data to register, then use the code "GUSteps"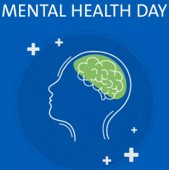 Mental Health Day

In the World Mental Health Day, GUST Took a moment to help spread awareness about the importance of mental health and advocate against its stigma in society.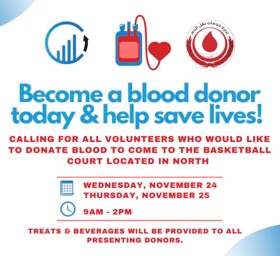 Blood Donation Campaign

The Economics Club at GUST help a blood donation campaign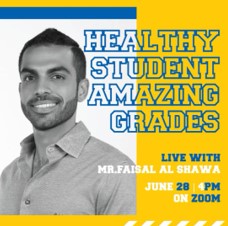 GUST Departments Collaborations

The Athletics Department brings you a seminar on how to have a healthy lifestyle with nutritionist Faisal Alshawa.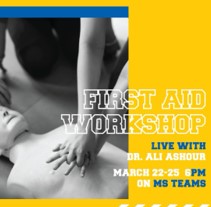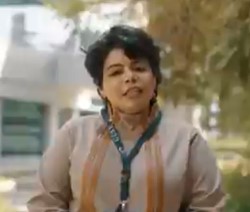 GUST is launching a campaign addressing mental health issues under the slogan "Mind Boost"

The first session of this campaign, titled "Exploring the Mental Health Landscape", will take place next Wednesday at 7 pm on our Clubhouse channel
GUST for SDGs specific researches on sustainability




Education for SDGs specific courses on sustainability

Have dedicated courses (full degrees, or electives) that address sustainability and the SDGs.

Courses Related To SDGs
CAS = Collage of Arts and Sciences, CBA = Collage of Business Administration



| SDG | College | Course |
| --- | --- | --- |
| SDG 3 - Good Health & Well-Being | CAS | PHED 101 Introduction to Physical Education 3.00 Prerequisite: ENGL 098 / 100/ 110/ 112 This course is designed to provide an overview of physical activity and lifetime personal fitness. The course introduces different components of fitness, different types of aerobic/anaerobic exercises, flexibility and body composition, muscular strength and endurance and management of personal fitness and nutrition. The course covers a variety of lifetime activities that promote health and well-being. |
| SDG 3 - Good Health & Well-Being | CBA | MGMT 241 Introduction to Business Laws & Ethics Topics: ethics and social responsibility of organizations. The course Introduction to Business Law and Ethics considers important legal principles that affect businesses and moral-ethical issues that confront them. While the course aims to provide students with a broad based knowledge of legal principles applicable globally, it also stresses the moral-ethical obligation and the importance of ethics in relation to legal principles taught. Topics include: an introduction to business law, jurisdiction and alternative dispute resolution, ethical issues that confront modern businesses, intentional and unintentional business torts, requirements of a valid contract, discharge of contract, breach of contract, sole proprietorship, partnerships, corporate formation, negotiable instruments and the banking environment. |
| SDG 3 - Good Health & Well-Being | CBA | MGMT 351 Human Resources Management Topics: - HR practices and Gender equity. In-depth examination of human resources management from a strategic perspective. Topics examined include Affirmative action and Equal Employment opportunities, Job Analysis, recruitment, selection, training and development, performance management and appraisal, compensation, Safety and Health, legal issues, labor relations and Global Human Resource Management. In addition to providing more details in terms of content, this course will be an active learning approach. Students will also spend a great deal of time in class discussing ideas, participating in exercises, and practicing the skills necessary to perform well in this class and beyond. |
| SDG 3 - Good Health & Well-Being | CBA | MGMT 471 Role of the Global Corporation Topics: ethics and social responsibility of global organizations. The purpose of this course is to create awareness of controversial issues about international business. Students will gain a better understanding of resistance to, and criticism of, international business and will become better prepared for dealing with these issues and problems |
| SDG 3 - Good Health & Well-Being | CBA | MGMT 551 Human Resources Management Topics: - HR practices and Gender equity. In-depth examination of human resources issues from the perspective of contemporary management. Topics include employee selection, performance appraisal, training and development, compensation, legal issues, and labor relations. |
| SDG 3 - Good Health & Well-Being | CBA | MGMT 571 International Business Topics: ethics and social responsibility of International organizations. This is a fundamental international business course aiming at introducing students to the general business environment that impacts conducting business across borders. Topics covered to include: Overview of International Business & Globalization, Culture, Government and Legal Systems, Trade & Factor Mobility Theory, Trade Protectionism, Economic Integration and Cooperation, Ethics & Social Responsibility, Strategies for International Business, Modes of Trading Internationally, and Forms and Ownership of Foreign Production. |