SDG8: Decent Work & Economic Growth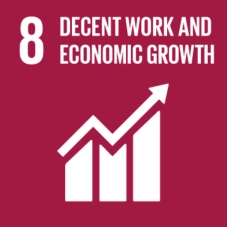 " For close to three decades, the number of workers living in extreme poverty has reduced drastically. This is despite the lasting impact of the 2008 economic crisis and global recession. In developing countries, 34 per cent of total employments were for the middle class, a number that has increased rapidly between 1991 and 2015. In spite of that, the global economy continues to recover; the world is seeing slower growth, inequalities widened, and low level of jobs opportunity that is not commensurate of the labour force.
Employment growth since 2008 has averaged only 0.1% annually, compared with 0.9% between 2000 and 2007. Over 60 per cent of all workers do not have an employment contract.
SDG 8 aims at fostering sustainable and equitable economic growth for all workers, irrespective of their background, race or gender. This means achieving "higher levels of economic productivity through diversification, technological upgrading and innovation, including through a focus on high-value added and labour-intensive sectors."
The UN has defined the 12 Targets and 17 Indicators for SDG 8. The 12 Targets specify the goals and Indicators represent the metrics by which the world aims to track whether these targets are achieved by using the years stated and documented for the indicators actualisation. Two of the indicators are to be achieved by the year 2020, one by the year 2025, and the remaining fourteen indicators are to be achieved by 2030, which sums it up to seventeen. Each of the 17 Indicators is used to measure the progress and the success of the decent work and global economic growth for all.
Student Clubs Activities and Events
Marketing Club

| Topic | Description |
| --- | --- |
| Project marketing & financial management | A seminar on project marketing & financial management by Mr.Abdulqader Al Ibrahim presented by Talal Al Muhana about how they advertise and market a company, also they discussed financial management. Also, they talked about how to manage small businesses and a big business. |
| Passion in marketing | Hosted a seminar with Mr.Bader AlEssa in a zoom meeting to talk about marketing, business in Kuwait and passion in marketing. |
| The extent of the labor market's need for marketing personnel in the presence of electronic or digital applications | The seminar talked about the future of marketing and the use of digital applications while keeping in mind the use of marketing personnel, are people that important when it comes to marketing or will applications fully take over? |
| Crypto Investment is the Future | hosted Mr. Mohammed S. Al Ostath, to talk about crypto currency's investment growth, the past & future history, using facts and theories, A Kuwaiti investor & The 1st Kuwaiti Crypto analyst. |
| Donation | It was a collaboration with Al Najat non-profit organization, donations, sending food for those in need. |
| Giveaways and discount codes | We have some companies that gave us sales codes and some free product for students: - Maroon Bakery 30% discount - INK beauty Salon They offered one free basic manicure pedicure, and one natural hair treatment - Home and garden 15% discount - Asateer Perfumes free perfumes - Ever Bakery 15% discount - Matadors KW 20% discount |
Islamic Finance Club

| Topic | Description |
| --- | --- |
| Kuwait stock market after vaccine | A seminar by Dr. Salah Al Hammadi that talked about Kuwait stock market after the announcement of the Covid-19 vaccine and what is expected during after the vaccine is launched. |
| How to read the new credit rating of the State of Kuwait | Dr. Osama Alfalah discussed how to read the new credit rating of the State of Kuwait. |
Economy Club

| Topic | Description |
| --- | --- |
| Role of the private sector in the Economy | Abdullah Al-Saloom discussed the way of increasing the GDP so the economy could benefit with a specialist in Economics |
| How to build a business | A workshop about how to start your business with low resources it lasted for 4 hours and through Microsoft Teams, it's a paid workshop but we got it free for our students. |
Ruwwad Club

| Topic | Description |
| --- | --- |
| Word of mouth in business | Seminar about Marketing consultant by Mr. Hashem Al Rujaib that talked about the word of mouth marketing for business and entrepreneurs |
GUST for SDGs specific researches on sustainability
Education for SDGs specific courses on sustainability
Have dedicated courses (full degrees, or electives) that address sustainability and the SDGs.
Courses Related To SDGs
CAS = Collage of Arts and Sciences, CBA = Collage of Business Administration
| SDG | Collage | Course |
| --- | --- | --- |
| SDG 8 - Decent Work & Economic Growth | CBA | MGMT 201 Introduction to Management Topics: social responsibility of organizations. This course examines a wide range of business theory and practical applications related to effective management practices. In addition to learning about what management is and what managers do, learners will also explore and assess their own management styles and the implications of their findings. Learners apply critical thinking skills pertaining to core business functions. Focus is on contributing factors to management, such as communication, the role of the manager, design of the organization, ethical issues, social responsibility and globalization. The course format emphasizes the application of management roles and competencies through experiential activities, group exercises and case analysis. |
| SDG 8 - Decent Work & Economic Growth | CBA | MGMT 471 Role of the Global Corporation Topics: ethics and social responsibility of global organizations. The purpose of this course is to create awareness of controversial issues about international business. Students will gain a better understanding of resistance to, and criticism of, international business and will become better prepared for dealing with these issues and problems. |
| SDG 8 - Decent Work & Economic Growth | CBA | MGMT 571 International Business Topics: ethics and social responsibility of International organizations. This is a fundamental international business course aiming at introducing students to the general business environment that impacts conducting business across borders. Topics covered to include: Overview of International Business & Globalization, Culture, Government and Legal Systems, Trade & Factor Mobility Theory, Trade Protectionism, Economic Integration and Cooperation, Ethics & Social Responsibility, Strategies for International Business, Modes of Trading Internationally, and Forms and Ownership of Foreign Production. |
| SDG 8 - Decent Work & Economic Growth | CBA | ACCT 410: International Accounting and Multinational Enterprises Topics: Corporate Social Responsibility, Chapter 5 The course: (i) emphasizes the importance of reporting to "stakeholders": employees, customers, suppliers, governments, activist groups, the general public, in addition to investors, (ii) explains the measurement and communication of information about a company's effects on employee welfare, the local community, and the environment, and (iii) outlines the integrations of "Sustainability" reports with economic, social, and environmental performance - the so called "Triple Bottom Reporting" which addresses profits, people and planet. |